Biography...

He was born in Valence, in the Drome region of France, February 1st 1939, in St. Joseph?s clinic that was previously owned by the Genest family and known then as the "Villa des Violettes".
A childhood passed within the Genest close, precisely the "Villa des Cigales", nowadays classified. The villa had many known visitors in it?s time, Saint-Saens, Vincent d'Indy, Frederic Mistral, Injalbert, Louis de Cardonnel, Marguerite Moreno and friends from the "Comedie Française", Jules Claretie.

A part of his childhood was spent in Morocco (Meknès, Fez, Agadir, Marrakech) with regular visits to Valence.

He returned to France after the war, where he lived in Lure (Vosges) and Dinan in north Brittany, now known as the Côte d?Armor.
He studied the piano from the age of seven years.

In 1954 he went to Germany and lived in Baden-Baden where he later met Jean-Pierre Ponnelle, a stage decorator and his wife, the comedian Margit Saad, (who figured in "the Criminals" by Losey). Ponnelle was doing his national service at the time and considering becoming a stage director.
He attended most of the theatre produced by Ponnelle and the realization of a huge triptych painted using ancient techniques. (See "Life" magazine of that epoch and the video by Klaus Fischer).

Encountered Adamov, Pierre Boulez, Heinrich Strobel and Kurt Joos thanks to Ponnelle.

Served his national service in Algeria : corresponded with Ponnelle and Micheline Banzet a musical producer with "France Musique".

Wrote a news column about discs for a magazine, "le Petit Bleu des Côtes de Nord" thanks to Jeanne Paule Sicard, a personal friend of Albert Camus.

Returned to Valence September 1962.

Studied law in Paris with frequent visits to Valence.

Designed and painted, first of all in Valence, then Paris. Exhibition in Valence.

Encountered Geneviève de Chambure of the Conservatory Museum of Paris who advised and helped him.
Met Humbert Camerio in Lyon.

Drew under the tuition of Bousceau in Paris (Montparnasse)
Sought out in 1965 by Ponnelle as his first production assistant. Disagreement and separation after the production of "A Midsummer Night?s Dream" by Benjamin Britten.

In 1966 invited to Rome by Giorgio de Chirico who proposed to advise him and also to follow his career.

He then encountered Françoise Gilot.

Flees Brayer's studio when he heard him tell an apprentice to give him Corot's palette.

In order to become financially independent he took employment within Paris in an establishment that was later to become part of the "Hautes de Seine" region (Children's Social Aid association).

Designed and painted in Paris and Le Plessis Robinson. After reading a book by Michel Carrouges entitled "Painting on the theme Myths and Realism of extra-terrestrials" he then read Jung ("a Modern Myth" ) and Freud.

Studied accounts of 3rd encounters and joined the GEPA, founded by René Fouéré.

During the years 1967-70 worked with young people in need in the Children's Social Aid association in Paris where he used works by Chirico to teach them to draw and paint.

He encountered Mireille Montangerand who helped him exhibit his work in the Welter Gallery, Ave. de Versailles.

Lived in Montrouge in a studio Place Jules Ferry, with Doisneau, Béothy, Fougeron and Kanas for neighbours.

Since 1983, encouraged and advised by Montangerand he has regularly exhibited in the Independent's Salon ( the only salon without a jury: proof of real liberty!). More recently his work has been shown in the Design and Water Colour Salon

He has however had two personal exhibitions in what could be described as a "marginal career".

1976 : Norne Galleryin Stasbourg, Ratsamhausen Court, "Petite France"
1983 : Réges Criniti Gallery, polyvalent artistic premise opened by Maguy Lovano a producer with France Music.
This exhibition, made in common with children from the Erlanger school (Paris), treated the extra-terrestrial theme.

Jean-François Deluol then began a correspondence and friendship with a French scientist, Jacques Vallée, living in the U.S.A. where he is recognized as a specialist, with Hynek, on problems concerning UFO's. Vallée also studies the cultural effect of this problem and the consequences on the local populations.

During this time he specialized as an educator ( Children's social and adoption aid ), leaving little time for painting and preferring writing, photography and music.

However a few rare but significant canvasses were realized at the Parent Foundation of Rosan and at the Vitz/Authie windmill in the Somme region.

Wrote about his encounters with Giorgio de Chirico, Jean-Pierre Ponnelle, Boulez and Derain, also on the problems of modernism (correspondence with Jean Clair concerning De Chirico).

Expresses great admiration for the works of Derain and Maillol, Letourneur, Zwobada and André Deluol, specialist of the direct size.

Started a project to restore the Genest villas in Valence after having called for help from the Genest-Deluol descendents in memory of this special place. The project was doomed however by the lack of support from the regional Rhône- Alps committee.

Jean- François DELUOL is now absolutely committed to painting in his Normandy studio.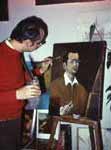 Jean-François Deluol
in its workshop,
Jules Ferry's
quare in Montrouge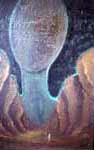 Self-portrait
"Dans les ailes
du songe"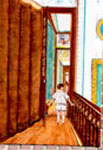 Self-portrait
Enfant à la
villa des cigales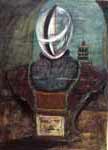 Tribute to Chirico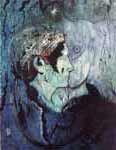 "Un Songe du Roi des eaux"




Jean-François Deluol
above the
"Villa des Cigales"
(Valence)