"The Interrupted Voyage"

Article by Robert Moran, july 1989 in « Technique des Arts » (Art technics) :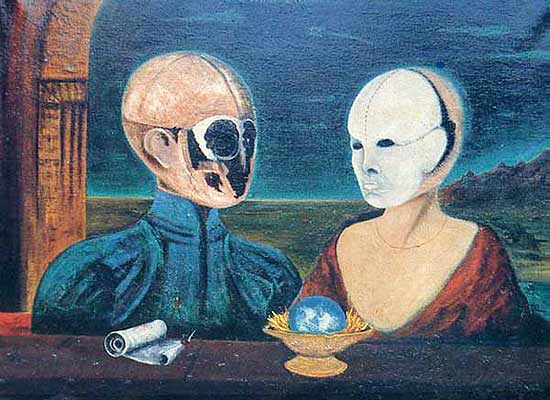 "Le voyage interrompu" - 1983. 80 Figure et 14 ans de travail...

«My painting is made up of material accumulated throughout the years.».

Jean-François Deluol, nephew of André Deluol, sculptor, specializing in direct carving, is a great admirer of the Veronian Titian, of Derain and De Chirico who he actually encountered in his roman workshop in 1966. He does in fact owe De Chirico credit for part of his inspiration in the picture entitled "The Interrupted Voyage", completed in 1983 in homage to the French-American scientist Jacques Vallée.

A Cosmic Theme...

Jean-François Deluol explains how the central theme of his work most often treats the subject of "cosmic mythology", making a reference to the "unconscious collective phenomena".
Starting from the same framework "myths and reality of extra-terrestrials", his pictorial project could be developed on the basis of collective realizations, taken from the workshops of children and adults for example.
"The interrupted Voyage" is at the same time an homage to the Italian master De Chirico (the Duo) and to the French scientist Jacques Vallée, an astrophysician living in the United States where he is in charge of an important data processing project in the Silicon Valley. This internationally renowned scientist was the inspiration for the rôle of a French scientist created by Steven Spielberg and personified by François Truffaut in the film "Encounters of the Third Type".
Jacques Vallée is the author of several works devoted to special phenomena and strange encounters.
"The Interrupted Voyage" refers to one of the great classics of close encounters, because, to go back to the title of the work by John Fuller, it is devoted to the encounter made by Betty and Barney Hill in the USA and related by them, under hypnosis.This happened in September 1961 in New Hampshire.

In the Privacy of a Workshop...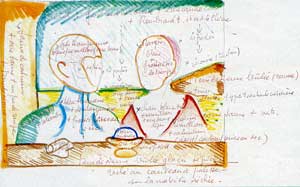 Jean-François Deluol recounts :

"I paint in a small workshop cluttered with a load of bric-à-brac. There I?ve collected all that concerns the Arts that I love : poetry, painting and music». He can even be seen listening to some really ancient, rare and precious "78" gramophone records.
"I don?t think I could live without Bach or Mozart?.
"I don?t possess an easel, I use an old garden chair and a little case in which I put my tubes of paint and brushes. I usually paint with brushes but don?t exclude the palette knife,(used mostly for scraping), and also my fingers in moments of intense creation, with urgency and precipitation."

The mixture of colours on the canvas...

I paint properly, as a Fauvist, with pure tones that are mixed on the canvas with different mediums. I actually painted part of this canvas using my own mediums following the advice of De Chirico and in particular a lithography varnish. This varnish is really cooked ! I melt linen and lead oxide in a pot : it gives me the extraordinary impression, magic, to be in another age.
This mixture is really difficult and quite dangerous to prepare. Today I use ready prepared painting mediums.
All of my supports are worked over with silver-white, a mixture of siccative "courtrai", white and turpentine.
On this clear base I re-cover the whole with a light layer of "veronese" and for the lower part of the canvas an additional layer of yellow ochre and burnt sienna.
I mostly use sable brushes and artist quality colours. My canvasses are usually made from my seaside notes and sketches.
My models slumber in the sun and on awakening try to see my efforts : only to be surprised to find themselves in a mountain landscape, landed there like shipwrecked robots from another planet.

14 Years of Stratifications...

Some of my canvasses are painted relatively quickly. On the contrary "the Voyage" swept me into another dimension and another time! Almost 14 years! Painted and repainted, this canvas is a genuine block of material that I love to touch.
On this thick linen canvas, size 80F, that was abandoned, resumed, worked over with a knife, a finger, a brush and a palette of colours that resembles a flow of multicoloured lava ; completely weird. It is made up of materials accumulated and dried throughout the years...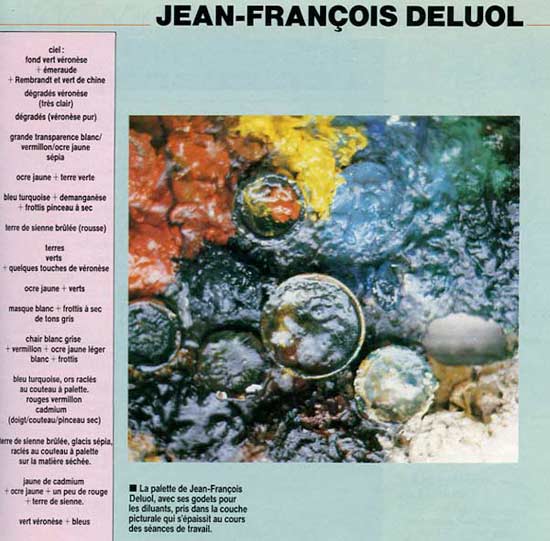 Another article by Jean Monneret, president of the Federation of Historic Salons of the Grand Palais :

There are certain encounters that determine your life. In 1966 Jean-François Deluol encountered Giorgio De Chirico in Rome : this admirer of Nietzsche who retains certain ghostly aspects from his sojourns in Milan and Turin.
Rightly impressioned by De Chirico's series entitled "the Arcades", "the Mannequins" and "the Metaphysical Interiors", this disciple from the Drôme threw himself into a series of paintings worked using the ancient methods, exploiting the "myths and realities of extra-terrestrials"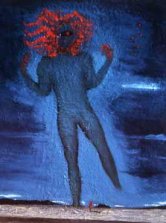 (humanoid with the unique Cyclops eye and the red hair of the Gorgone; oil painting with mediums, private collection, USA) without forgetting the classical studies (nudes, portraits), all with a fantastic air.

Jean MONNERET